ESnet Honored for Innovations in Networking
CENIC R&E Network Partner Award Recognizes Support of Open and Secure Data-Intensive Scientific Research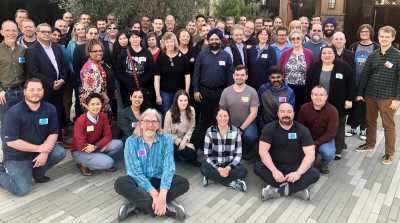 CENIC has selected the U.S. Department of Energy's Energy Sciences Network (ESnet) to receive the 2019 CENIC Innovations in Networking Award for R&E Network Partner, in recognition of ESnet's contributions to a number of collaborative initiatives with CENIC, including cybersecurity strategy, network design, and technology adoption.
The CENIC Innovations in Networking Awards recognize exemplary people, projects, and organizations that leverage high-bandwidth networking; help renew, enrich, and extend the CENIC network; and impact the advanced research and education network ecosystem in the U.S. and abroad.
"CENIC and ESnet have been supporting science together in California for a long time, drawing on each other's strengths, helping shatter world network speed records, collaborating on ScienceDMZ and the Pacific Research Platform, and, most recently, on cybersecurity and new network architectures," said Inder Monga, Executive Director of ESnet. "We thank CENIC for the recognition of the partnership and look forward to this relationship continuing to produce remarkable benefits for stakeholders of both networks."
In addition to Monga, project leaders from ESnet being recognized for the award are Eli Dart, Chin Guok, Andy Lake, John MacAuley, Kate Mace, Lauren Rotman, Michael Sinatra, Denise Sumikawa, Brian Tierney, and Jason Zurawski.
Managed by Lawrence Berkeley National Laboratory (Berkeley Lab), ESnet provides services to more than 50 DOE research sites, including the entire national laboratory system, its user facilities (including the supercomputing centers), and its major scientific instruments. CENIC is a nonprofit organization that operates the California Research and Education Network (CalREN), designed to meet the requirements of more than 20 million users, including the vast majority of K-20 students together with educators, researchers, and key public-serving institutions. The two organizations first began working together in the early 2000s, partnering on a number of network and scientific milestones, including supporting LAT Instrument Science Operations Center hosted at SLAC and the Pacific Research Platform led by Dr. Larry Smarr out of the University of California, San Diego.
"The success of our NSF-funded Pacific Research Platform can be traced directly back to ESnet innovations, including defining ScienceDMZs and DTNs, developing MaDDash visualizations, and formalizing Science Engagement," said Smarr. "We look forward to continuing and deepening our collaboration as ESnet 6 drives innovations in Big Data network innovations."
ESnet's focus on high-quality network security and design, along with significant efforts to support important research on pressing, data-intensive scientific challenges, have been profoundly beneficial to CENIC's research community, CENIC noted in a news release.
"This award is richly deserved: ESnet has consistently defined the gold standard for scientific networking worldwide," said Greg Bell, former ESnet director and a member of the CENIC Advisory Board who is currently CEO of Corelight. "The award also commemorates a long, fruitful, and multi-faceted collaboration between two exceptional organizations. It's important to remember that networks succeed only through partnership, and a partnership of this quality is very rare indeed."
Ensuring Open and Secure Data Research
In 2016, CENIC and ESnet launched the Joint Cybersecurity Initiative to develop and align cybersecurity strategies and research projects. Both scientific research organizations share particular security challenges: support of open science and, increasingly, big-data science; diverse research portfolios; openness to experimentation across all intellectual domains; openness to collaborations within and across institutions – regionally, nationally, and internationally; and the need for seamless access to remote data-sources, scientific tools, and computational resources.
"The cybersecurity partnership allows us to have conversations about the best ways to make sure that the security of our networks are informed by each other's experiences," said Sean Peisert, CENIC's chief cybersecurity strategist and a research scientist at Berkeley Lab. "We also exchange information about some of the best practices we use to run our own internal organizations, be it the nature of our security teams, handling authentication or access controls, or doing assessments of vulnerabilities."
CENIC and ESnet's peering relationship serves some of the most advanced research institutions in the world, including universities, national laboratories, supercomputing centers, and large-scale instrument facilities throughout the West. Advances like ESnet's Science DMZ security architecture, which makes possible broad-scale scientific collaborations like Pacific Research Platform, are ensuring data-intensive research is open and secure.
"We collaborate with ESnet continuously," said John Dundas III, CENIC's vice president and chief technology officer. "Our teams regularly exchange ideas and review each other's work. We are similar in a lot of ways and our challenges are very much aligned."
The CENIC Innovations in Networking Awards are presented each year at CENIC's annual conference, which this year will be held March 18-20, 2019, in San Diego, California.