ESnet Welcomes New Hires for March and April
Edward Balas, Software Engineering

Edward Balas joined ESnet in March, as manager of the ESnet Software Engineering Team that is working to implement ESnet6 and support existing ESnet capabilities. He will be working remotely from Bloomington, Indiana.
Balas was born in St. Louis, Missouri and went to St. Joseph's College in Indiana, where he got his bachelor's degrees in computer science and psychology. Balas first was attracted to networking in college in the early 1990s, when a network of networks was a new idea with much promise. As a result of participating in several internships at Oak Ridge and Los Alamos he developed a long-term interest in the DOE mission. Since then, he has spent the better part of the last two decades finding ways to more efficiently operate high performance networks through the application of automation and analytics.
In his free time, Balas enjoys hiking, golf, and spending time with his family.
---
Ling Liang, Strategic Projects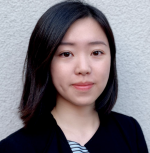 Ling Liang joined ESnet in April as Program Manager for ESnet's business-oriented Strategic Projects program. She had been working at the Lab since 2013 supporting and managing projects in areas such as renewables, energy/energy efficiency, software, technology scale up and commercialization.
Originally from China, Ling earned a bachelor's degree in biotechnology, followed by a master's degree in Environmental Engineering and Public Administration at Syracuse University. She then came to the Bay Area, where she earned a certificate in Advanced Project Management at Stanford and Entrepreneurship at UC Berkeley.
Ling moved to the Bay Area from New York and likes "the nice weather, the innovation, and the diversity" that the Bay Area has to offer. In her free time, Ling enjoys drinking tea, reading books, and traveling.
---
George Robb III, Infrastructure Systems
George Robb III joined the ESnet Infrastructure Systems Group in April where he is working on monitoring, improving, and caring for the facility's infrastructure systems. He spent the last 18 years working in systems administration and support at the University of Missouri, where he was a key member of the Research Compute Support Services organization. He has also been a technical leader within the Great Plains Network, supporting the NSF Toward a National Research Platform initiative.
Robb is originally from Missouri and earned his degree at the University of Missouri. He first became interested in infrastructure at a young age. "I was 5 or 6 and asked my mom to see the engine of a newly broken mixer, so she cut off the cord and we took it apart. I've been taking systems apart and putting them back together ever since," he said.
When he isn't taking things apart and putting them back together or playing with operating systems, Robb loves spending time with his family. He is also working on some home renovation projects with a focus on alternative power and a goal of eventually taking a small part of his house off the power grid entirely.
---
Eric Smith, Network Engineering
Eric Smith joined ESNet in March. He is a network engineer who will be working remotely from Oregon on the implementation of ESnet6.
Originally from Pennsylvania, Smith earned his degree in computer science at Duquesne University in Pittsburgh. He later moved to Eugene, Oregon, where he has been living for four years.
Smith first became interested in computer science while programming games on his Commodore 128. Later, he was drawn to network engineering through a Duquesne University summer internship program.
"My move into network engineering was a chance circumstance at Duquesne University where an 'Opportunity Knocks' program hired students to do summer work for the University," he said. "They asked us all to choose which team they wanted to join: hardware, software, help desk, or network. I looked for the group with the fewest number of students joining (mostly because of my reserved personality) and joined," he said. That turned out to be the network team, a fateful choice for Smith.
In his free time, Smith can be found hiking, rock climbing, playing guitar, taking photographs, and playing chess.